La Ponta- Castle of Akrotiri -  traveling back in time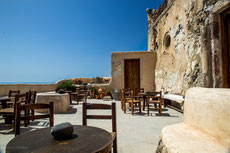 A real authentic and historically charged location on Santorini is La Ponta, located within a 13th century medieval venetian tower in the castle of Akrotiri.
 Two good friends of mine Yannis Pantazis (a passionate musician, composer and musical instrument maker)  and Argy Kakissis (a multi talented entrepreneur and visionary) were offered this watchtower in 2012.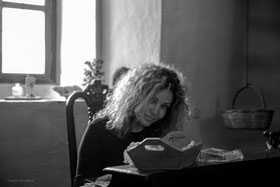 The story started in the tower four years when they privately funded the internal restoration of the tower and created a tsabouna workshop, a concert venue and a folk wind instrument exhibition (including Greek flutes and percussion instruments) The tower has been lovingly restored taking into consideration its authentic state and respecting this noted historic monument of the Greek ministry of culture.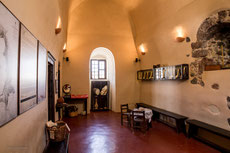 La Ponta is truly a magical place, located on top of the Akrotiri village, in the centre of a once fortified castle overlooking the  south and west coast of Santorini. La Ponta in the middle ages was one of five castles on the island constructed on top of hill to protect the islanders against the pirates. 
I spent quite some time especially the evenings at La Ponta attending the concerts organized during the summertime and the "sounds from the castle"  really made me feel like I had travelled back in time.
Before and after the concerts one may enjoy the view from high above and the peacefulness of this part of this island that is truly breathtaking.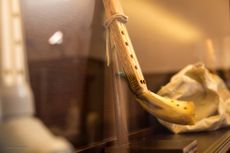 There are different "activities" that one can attend at la Ponta: 
1. Daily Tours,  a historical and musical presentation-
An interactive "musical journey" with various hand crafted wind and string instruments that explain the development of primitive instruments from the bone flute to the tsabouna.
The tours take place from 12.00-12.45h and 18.00 - 18.45h ( entrance 7 Euro) from 01.04. - 29.10.2016
2. Two different evening concerts take place five times a week, starting 23.05. - 29.10.2016, on Mondays, Tuesdays, Wednesdays, Fridays and Saturdays: 
"Odysseus returns" (Monday, Wednesday, Saturday), Yannis Pantazis, wind and string instruments and
"Notes of the centuries" (Tuesday, Friday), Yannis Pantazis, wind instruments  and Thanasis Kleopas, guitar, vocals.  Entrance 12 Euro.
The general entrance fee to enter La Ponta is free.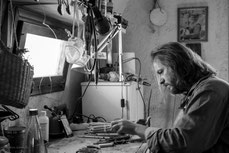 La Ponta includes a workshop were Yannis constructs the tsabouna, the Greek folk wind instrument of the bagpipe family, as well as single blade reed flutes, various double flutes and the traditional cycladic percussion instrument, the doubaki, in various sizes.
These handmade musical instruments among other handpicked beautiful items are available for purchase at a small shop inside La Ponta.
Argy and Yanni really managed  to breathe new life into La Ponta with their never ending enthusiasm and their love towards music, history and culture.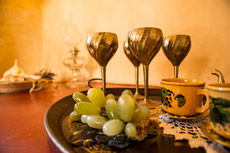 Every little detail inside and around the castle
of Akrotiri proves their endless devotion for their venture.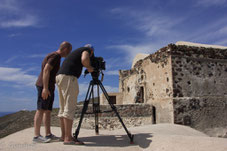 I highly recommend you visit this fascinating location and that applies to locals and non locals! 
Enjoy the peace, literally feel the passing of the time in La Ponta and let Argy and Yannis guide you through centuries of music and culture.  For more detailed information refer to the  website,
and then again: don' forget to comment on my post (any comments as well in Greek or German, my motherlanguage, are very welcome) and please share this content with your online community.
See you soon.
Catrin Günther
laundry, chair, Oia, Santorini
Welcome to my photography website. I am very happy to have you here with me.
Elliott Erwitt said: "Photography is an art of observation. It has little to do with the things you see and everything to do with the way you see them"  So I'd like you to get to know my way of seeing "things", seeing life.
My photography focuses on the beauty of nature , on landscapes, waterscapes, close-ups, abstracts and black and whites and in particular on Santorini, my adopted home.
My first blog about Santorini with real insider information about this gem in the Aegean Sea is online, have a look.  
Herzlich willkommen auf meiner Photographie Website, schön, daß Ihr bei mir vorbeischaut und hoffentlich etwas verweilt.
Elliott Erwitt sagte: "Photographie ist eine Kunst der Beobachtung. Es hat nicht viel zu tun mit den Dingen, die du siehst als viel mehr mit der Art und Weise, wie du sie siehst."  In diesem Sinne lade ich Euch ein,
meine "Sichtweise" der Dinge, des Lebens kennen zu lernen. 
    Mein photographischer Schwerpunkt liegt auf der Schönheit der Natur, auf Landschaften, Wasserlandschaften, Nahaufnahmen, Abstraktem, Schwarz- und Weiß Photographie und insbesondere auf Santorin, meiner zweiten Heimat. 
Ab sofort ist mein erster englischsprachiger Blog über Santorin online. Er enthält viele Informationen über dieses wunderschöne Eiland in der Ägäis aus der Sicht einer fast "Einheimischen".  Sie können gerne Kommentare, Fragen und Anregungen auf deutsch schreiben und Sie erhalten natürlich eine deutsche Antwort von mir
---
landscape. waterscape. nature. travel. close up/abstract. santorini . golden hour. sunset. black and whites. doors. chairs. phototour santorini. prints. prints on canvas. landschaft. wasserlandschaften. reisen. nahaufnahme/abstraktes. santorin. blaue stunde. sonnenuntergang. schwarz-weiss. türen. stühle. fototour santorin. drucke. fotoleinwand. santorini blog